About
For over a half century, Blackie's by the Sea has remained a popular fixture along the Newport Beach boardwalk. With exception to its once seasonal openings, little else as changed at this beloved, iconic bar. Having been a cash-only bar with no phone up until recently, pretty much everything else remains the same. All the quirky charm and character from the "Sorry we're Open" sign in the window, to the hodgepodge of surfing and nautical nostalgia cluttered walls and rafters, down to the peanut shell covered floors. It's all still here. Mixed with an eclectic crowd of beach bums, bikers and businessmen, even many of our old-time customers from those early days still remain, often found perched at the bar day-drinking, while reminiscing about endless summers and sharing tales, jokes and general proverbs.
Located just steps from the sand near the Newport Beach pier, Blackie's has become legendary among its years of patrons. More than just another bar to the surrounding beach community, Blackie's brings a proverbial rite of passage; you're not a Newport Beach local until you've been welcomed as a regular at Blackie's by the Sea.
Its deep-seated and fabled status was enough for Blackie's to be named in Esquire Magazine's Best Bars in America.
One of the oldest bars in the city, if you visit Newport Beach, Blackie's should be high on your list, if not the first place you stop. Join us for a frosty beer poured from the coldest handles on the peninsula. We also offer a full bar, as well as menu mainstays from hot dogs and sandwiches to our customer-favorite pickled eggs.
Known for serving consistently cold beer, our Blizzard Beer system proudly displays the current keg temperature above the front door, which is always right around 29 degrees. Plus, your beer is always poured into a frosted glass mug. Choose from 12 handles with a mix of craft beer and domestic favorites. Then find a spot at the ocean-view bar, relax at a booth or at one of our two billiards tables, where you just may encounter a shark or two. It's all part of the allure and relaxed atmosphere of Blackie's by the Sea.
Blackie's by the Sea; Best Legal Way to get Drunk at the Beach – OC WEEKLY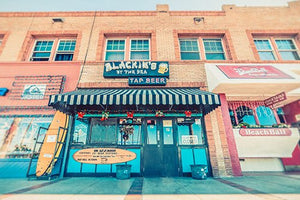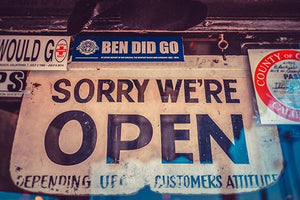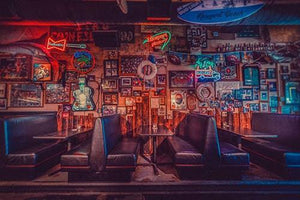 History
Blackie's by the Sea was founded by William "Blackie" Blackstock in 1953. During those early years, the peninsula was a bustling summer destination where tourists flocked to the beach to escape the inland heat in favor of cooler ocean breezes and frolicking on the beach. Local businesses enjoyed the influx of patrons during the warmer months, but many of the stores including Blackie's shuttered until the crowds returned the following year. With increasing traffic and after over a decade of opening seasonally, in 1964 new owner Chuck Frei decided it was time to keep the doors open year-round and the iconic bar has remained open ever since.
Today, Blackie's is still privately owned and operated, having only three stewards spanning nearly 70 years.
"There's a framed sign hanging on the wall at Blackie's By the Sea, hidden among decades of old photos and nautical taxidermy, commemorating a man for 50 years of drinking there. Let that soak in for a moment. This man has swilled at this seaside bar longer than the average American marriage lasts. He was sipping beer here before the Beatles invaded America. How's that for commitment?" – OC WEEKLY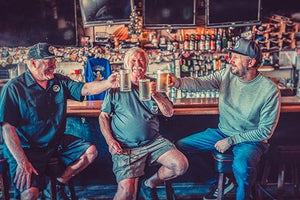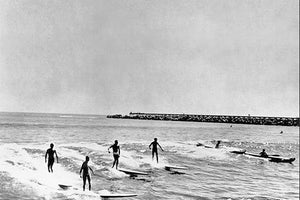 Blackie's Beach
Referred to initially as 22nd Street, the surf break directly out front of Blackie's by the Sea eventually became known simply as Blackie's as our large sign was easily spotted from the line-up. It was the 1960s and the dawn of the longboard era. The beach parking lot provided ample and convenient parking, often lined with Woodys, VW buses, and station wagons, each stacked with longboards. The stretch of sand between the pier and the 28th Street jetty was also the main base for the Newport Beach Surfing Association and home break for notable surfers such as Ron Sizemore and Hawaiian transplants Ilima Kalama and David Nuuhiwa. Surfboard shapers such as the late Robert "Russell" Brown and Mike Marshall were also part of the original tight knit crew of locals, most of which have tossed back many a beer at the bar while recapping stories following a good session. Several of these veteran surfers still frequent the break and the bar today.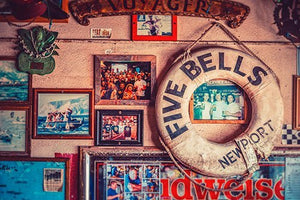 Blackie's Haloween Surf Day
Now in its 12th year, Blackie's Beach plays host to the annual Blackie's Halloween Surf Day. The longest running and largest Halloween surf costume gathering of its kind in California. It's not uncommon to see surfers dressed as superheroes such as Superman, Batman and Poison Ivy dueling for waves alongside arch villains, skeletons, mad clowns, and even Presidents of the United States. Formally held by Blackie's Longboard Club, the non-sanctioned event is generally held on the last Saturday morning prior to Halloween. Participants arrive early for all the festivities including pre-surf Halloween yoga, followed by costume show-off with prizes awarded to costumes worn while surfing. It's a memorable day of surfing and family fun for children and adults, and continues to grow with popularity each year.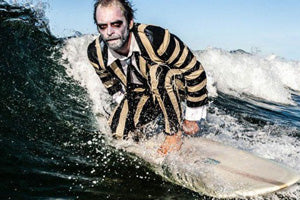 Historical Photos