Blackie's Beach
Live Surf

Our Story
You're not a Newport Beach local until you've been to Blackie's By The Sea.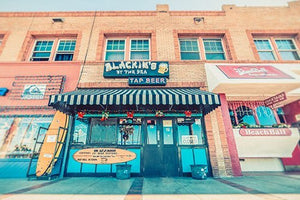 The only bar that can lay claim to its own namesake beach and surf break, Blackie's Beach. Blackie's by the Sea was founded by William "Blackie" Blackstock in 1953. For over a half century, Blackie's by the Sea has remained a popular fixture along the Newport Beach boardwalk. With exception to its once seasonal openings, little Else has changed at this beloved and iconic seaside tavern.
Located just steps from the sand and Newport Beach pier, Blackie's has become legendary among its years of patrons. More than just another bar to the surrounding beach community, Blackie's brings a proverbial rite of passage; considered the ceremonial spot where young locals go to tip back their very first legal beer.